In this post we will look at 5 free SEO tools from Google
1) Adwords Keyword Planner
The most obvious place to start your keyword research is with Google's very own keyword research tool. To use the Keyword Planner you will need to create an Adwords account, but don't worry, that's free!
How do you use Keyword Planner?
There are two main uses for the planner – checking how good your keywords are, and finding new keywords.
To check your keywords you simply need to click on "Get search volume…", type in your search terms, click search, and view the results.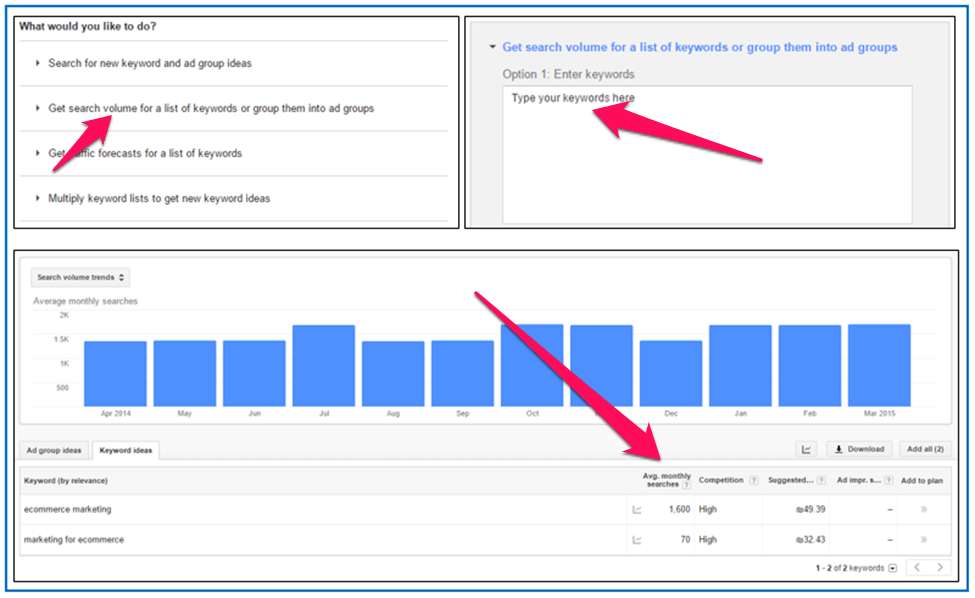 To find suggestions click on "Search for new keyword…" type in the relevant topic, and view the results. You can also type in your landing page to get suggestions based on your current site content.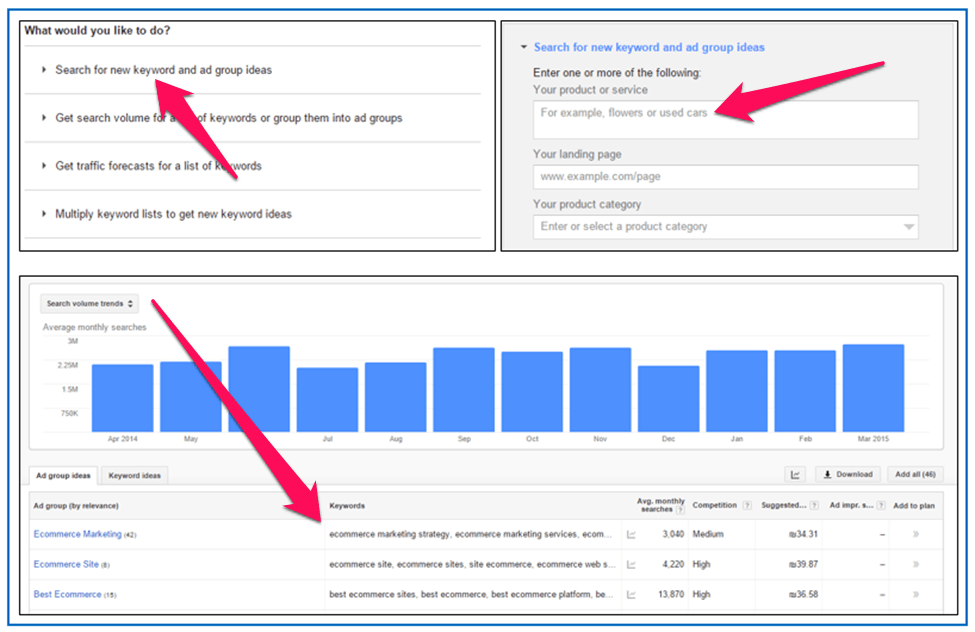 Pro Tip: Look for keywords that have a high search volume, but low or medium competition. That means that people are searching for these words, but there aren't many businesses focusing on them. Those are the words that you want to use.
2) Google Trends
This nifty tool by Google enables you to see the relative trends of different keywords over time.
You might be thinking, "If I can see the search volume on the keyword planner, why do I need to know the search trends as well?"
Great question!
Here's why. Let's say it's 2012 and you're writing about cell phones, and you want to find the best keyword. So you head over to the keyword planner and search for "smartphone" and "mobile phone" where you find that "mobile phone" has a higher search volume, so you decide to use that keyword.
A quick look at Google Trends though will show that in fact that is not the best choice of keyword. While "mobile phone" might have a higher search volume, "smartphone" is on the rise, and mobile phone is declining, therefore, in fact, smartphones is a better choice.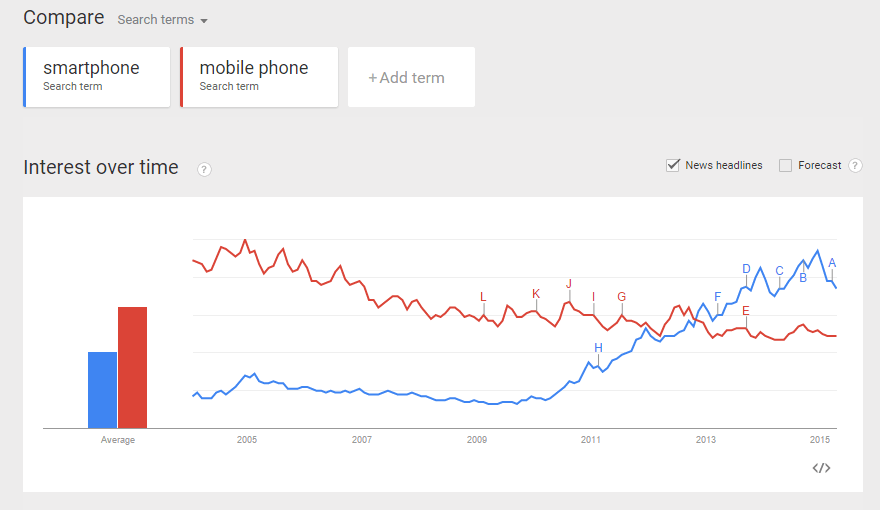 Pro tip: Always find the keyword that is in an upward trend (or at least steady), because this is a keyword that you can catch before the competition rises.
3) Incognito Window
The incognito window isn't exactly a tool made for SEO purposes, but you can most certainly use it to boost your organic traffic!
First things first though, what is an incognito window?
An incognito window, as the name suggests, enables you to browse on Google "undercover" (meaning not really as yourself).
Now, why is this important for SEO?
Have you ever noticed that when you start typing a search term into Google autofill suggestions pop up? Those suggestions are SEO gold, because they are phrased exactly as people search for them!
So if, for example you want to rank for a keyword like "Lenovo laptop" you can type in Lenovo to see what people search for:
Problem with normal searching in Google versus Incognito Mode
The problem with using this method in a regular window is that it calls up your search history to give you suggestions based on your previous web activity (notice the two search results that appear in purple – those are previous searches of mine).
That is where the incognito window steps in! In order to get an unbiased view of what people actually search for you can open up an incognito window and type your search in there:

An incognito window can be opened from your Chrome Browser by pressing "ctrl" "shift" "N". You will know if it's open if you see this guy in the top corner:

Try it for yourself – here's my search Incognito for SEO Weston super Mare
4) Webmaster Tools
When it comes to keyword research it isn't always necessary to start from scratch. Sometimes it makes sense to take a look at what has worked for you in the past, and see if you can recreate that success again.
How do you know what keywords have worked for you? Simple – use Google's Webmaster Tools.
(Check out this guide to setting up your Webmaster account and linking it with Google Analytics)
There are all sorts of things you can do with Webmaster tools, but today we're going to focus on one function in particular – the "Search Queries" function which shows you all of the Google search terms that have led to one of your pages over the course of a given period of time.
To access this function simply login to your webmaster account and select it from the side menu under the search traffic category: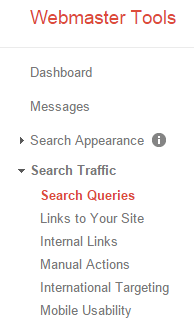 Once you open up your search queries you will see something like this image below, which will display your most popular search terms organised according to impressions, clicks, click through rate, and average position in the search.

With this information you can better understand which topics not only do well for you in terms of search positioning, but which have done well in terms of clicks as well.
Pro tip: Take a look at what is getting traffic for you today, and then go as far back as it will let you (90 days) and see what was getting traffic for you then.
If there is a search term that was getting traffic and is no longer ranking, then you should consider writing a new piece of content focusing on that keyword in order to try to regain that traffic.
5) Google Analytics
If you don't mind getting slightly less precise data, you can actually access some of the keyword information that is available in the Webmaster tool directly from your Google Analytics (to learn how to connect the two tools, read the guide linked to above).
But that's not the cool SEO trick that we're going to look at now. No we're going to take a look at the "Landing Page" feature instead!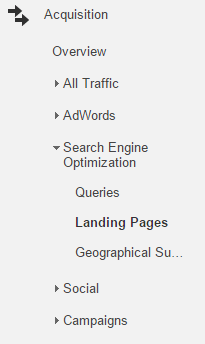 This report shows you which actual pages have received the most impressions and clicks in Google searches.
Landing Pages enables you to take a look at your organic success in another light. Rather than looking at which keywords have worked for you, you can take a look at which pages have acted most frequently as the entry point to your site.

Based on this information you can find pages that have been successful for you and attempt to capitalise on similar keywords, or you can use the same approach as with the Webmaster tool and search for pages that performed well in the past, but have lost steam.
Another cool thing you can do is to take a look at the pages that you wrote which are performing well, and analyse how you used the keywords on those pages in order to try to determine what you did well.
Read the original article here.