By admin
2020 SEO Tips, Bespoke SEO Training, Blog, Case Study, Freelance SEO UK, Google, How much does SEO cost, Keyword Research, Remote SEO Training, SEO, SEO Bridgwater, SEO Bristol, SEO Clevedon, SEO Courses UK, SEO Nailsea, SEO Somerset, SEO Tips, SEO Training, SEO Training Somerset, SEO Weston super Mare, Video SEO, Virtual Training, Website Marketing
Comments Off

on Google Search Terms SEO Long Tail Keywords
SEO Freelancer Google Search Terms Advice
Here's 4 reasons why you should not delve into SEO with misconceptions you can rank for a 2-keyword SEO competitive Search Phrase.
Websites already ranking on Google page 1, position 1 have been there for 10 years or more. If you have a new domain under 2 years old you're effectivaly asking for the moon on a stick for a few hundred quid
Domain age is important, it's my job to manage your expectations. It's easier to rank for longer phrases then when you have £pound signs in your eyes and think you're going to be a millionaire Rodney
Google has proven that there's long tail search terms with ZERO CLICKS so it's hugely important for you to target phrases that no one else would think of
Particularly effective with eCommerce and brand new websites that are only a few months old
Back in November 2019, Rand Fishkin shocked the search marketing world at SMX East by proving that more than 50% of Google searches end without an organic click. These Zero-Click searches are resulting in growing losses for websites in both revenue and leads meaning that Google is now everyone's competitor.
SEMrush Webinar – January 2020 – How To Identify Zero Click Long Tail Search Phrases

Andreas Dzumla from Longtail UX will advised proactive steps they can take to recover traffic lost to Zero-Click searches. Andreas has a prestigious background in search, starting with Lead Product Specialist for EMEA at Google and including 15 years of specialization in long-tail searches and multiple patents in search marketing technology. With Google's BERT algorithm threatening to cause even more Zero-Click losses for websites, this topic is both urgent and of critical importance to websites experiencing traffic losses.
Long Tail Target Search Terms – On Page SEO Checklist for WordPress Blogs
From an SEO point of view, it makes sense to put your keyword in the title only if it is short and high-volume: the SEMrush research on ranking factors confirmed it. If you are trying to promote a long-tail keyword, it could be quite tricky to put all of it into the title, so it would be better to focus on the quality of the content; Google and social shares will do the rest for you.
SEO Title Optimised For Search Term
As a writer, you surely understand the power of a good title. It is at the top of our on page SEO checklist and is critical for attracting the user's attention and increasing the page CTR. Users will see your title on the SERP, and if they don't like it or don't see what they need, they will most likely not click and read your article.
The title should be there not only for users, but for crawlers as well. So make sure you have title tags on your page. Also notice that while your H1 tag and title should not necessarily be repeating each other, you would still want them to be related.
Keep it short and simple with your URL
Before anything else, your URL has to be descriptive and meaningful (please avoid weird number and random letter combinations!). And of course the URL is a very good place for your keywords.
Also, don't forget that in a year you may want to update your content (including the title), so make sure your URL is evergreen and can be later applied to slightly or even drastically different content. If you decide to change the URL, do not forget about redirection to avoid 404 mistakes.
Your URL length matters — it is best to keep it around 3 to 5 words long. Also, when it comes to URL structure, using underscores as word separators is not recommended.
Meta Description
A meta description does not impact your search engine rankings in any way, but as I said earlier, you have to think about users as well. A well-written meta description will help them better understand what your article or page is about, and it helps with click- through-rates.
Also you do not want to let Google choose the meta description for you. When it happens, you may find a random phrase from your page residing there that won't help you with users. You also want to avoid duplicate meta descriptions across different pages.
Search Terms and Google Semantic Search
To provide users with the most relevant results for their particular search terms, use your target keywords within the first 100-150 words of your text and add some additional weight by placing semantically related words.
Skyscraper Content A Clear Winner in 2020 With Content Length
You have to be sure that your content is long enough so it is adequate for readers and search engines. But keep in mind that there is no exact 'perfect' content length; it all depends on your goals and the content purpose. Numerous studies have found that low word count content can hamper a page's ability to rank in Google well, with longer content considered more valuable.
The main point is: people love longer content if it includes deeper topic coverage and it is a proven fact that longer content tends to rank higher. Send me a message to ask about my own Google research and my Google Food article about SEO Rome.
H1 H2 H3 Headers and Subheaders
Structured text is easy to read and navigate through. There are plenty of methods for text structuring. If you are dealing with a lot of information, you can use a list with numbered or bullet points –this kind of formatting makes it easy for readers to scan a page and find what they need, and allows you to include plenty of information in the article without sacrificing the user's attention.
How It Should Lay Out
<h1>Example Title</h1>
Body text related to H1
<h2>Example Subtitle</h2>
Body text related to H2 and the main title of the article. SEMRush Original SEO Article.
The second way is more 'classic' – write an introduction pointing to the problem and then divide the text into 3 to 5 main points and title them with descriptive subheads. In my experience, 3-5 statements within one article is more than enough to prove your point. (Fewer might not look like enough to convince a reader, more might make the article difficult to read.)
Video Content and Video SEO – Importance of Titles and Tags
Adding video content to your page can also help you structure it and get more attention. It also attracts the audience that prefers visual content.
Although it hardly benefits you from the SEO point of view, the absence of videos can harm your visits, especially if everyone else in the niche has them. Also, having a script with the video has become a common practice, because it helps both users and crawlers notice your content.
ALT Tags on Images – Rename With Target Keywords
Images that are too large can slow down your site speed – one of the most powerful components of a good user experience. So be sure to use the right file size and format, and use image compressors correctly to reduce image size while maintaining visual quality.
Descriptive image file names and the use of ALT tags can help images from your page appear in Google image search results and help those that are visually impaired understand the page better.
Internal Linking and Anchor Text
Internal linking helps you enrich your content with additional useful information for readers while attracting attention to the related content you've created.
Also, internal linking is one of the SEO on page essentials – it has a big influence on search engine bots' behavior. Crawler starts visiting pages that could otherwise be lost. And in case you didn't have time to dive deep into link building, internal linking may be a good place to start.
Remember to use your target search phrase when implementing internal linking.
Duplicate Content – Google Penalty or Not in 2020
Duplicate content is one of the most common SEO problems. Our recent study shows that 50% of websites have some pages with duplicate content. It won't give you a penalty, but it is a signal to search engines that your website has little to no value for your readers.
Needless to say – your readers won't appreciate it either.
Here's the latest Google duplicate content advice and guidelines for 2020
QUOTE: "Important: The Lowest rating is appropriate if all or almost all of the MC (main content) on the page is copied with little or no time, effort, expertise, manual curation, or added value for users. Such pages should be rated Lowest, even if the page assigns credit for the content to another source." – Google Search Quality Evaluator Guidelines SEPTEMBER 5, 2019
TLDR: 'Duplicate content' is NOT mentioned **once** in the recently published Search Quality Raters Guidelines. 'Copied content', is.
Semantics aside, duplicate content is evidently treated differently by Google than copied content, with the difference being the INTENT and nature of the duplicated text.
Duplicated content is often not manipulative and is commonplace on many websites and often free from malicious intent. Copied content can often be penalised algorithmically or manually. Duplicate content is not penalised, but this is often not an optimal set-up for pages, either. Be VERY careful 'spinning' 'copied' text to make it unique!
Google clearly says that the practice of making your text more 'unique', using low-quality techniques like adding synonyms and related words is:
QUOTE: "probably more counter productive than actually helping your website" John Mueller, Google
If you need help identifying if any problematic content is on your website, my SEO audit can give you answers.
If you are doing SEO yourself, read on, as I attempt to break down a common SEO misunderstanding.
UPDATE: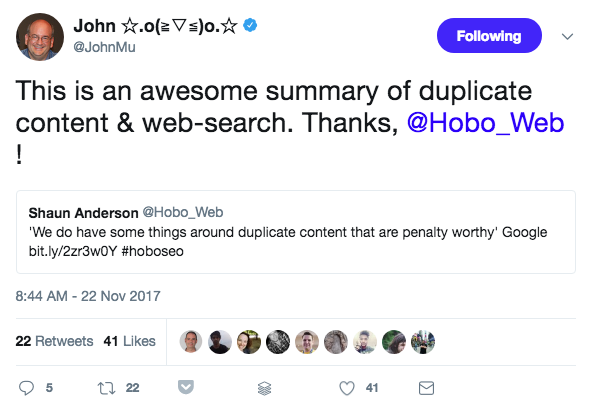 Contact Nina Payne the UK's favourite SEO Lady
Send a message
How old is the domain? What is the domain address?
How long ago was the website first launched?
Have you had any previous SEO work carried out?
When people use Google what search phrases would you like clients to use to find your website?
Do you rank in Google already for any of these search phrases?
What top 3 geographical areas are you wanting to target?