SEO Freelancer UK Digital Marketing British Consultant
Established in 2008, my exclusive 30 Day SEO Booster is a one-off non-ongoing contract Digital Marketing package which has evolved over the past 16+ years in line with the latest Google algorithm updates. The SEO Booster comes with a UK Nationwide search engine ranking improvement promise. Contact me today or stalk my 600+ reviews, including Freeindex, People Per Hour and Google.
Whilst there is no SEO on the planet that can predict or promise Page 1 ranking results, I'm confident to offer a guarantee of ranking improvement for websites built on Shopify, WordPress, Kajabi and Magento 2.
Video SEO Consultations – Google Analytics audit and 60 minute chat
In a recent poll (based on 24 months of research) 99/100 clients feedback to me that my no-nonsense attitude is refreshing. Other keywords include straight talking, honest, dependable and knowledgeable. 1/100 clients offer feedback that included the keyword "harsh" which I view as a 100% success (I was asking for overdue monies!).
I will nose around your Google Analytics account and perform some historical data mining in order for me to create a hitlist of subjects to discuss. You will bring to the session your list of things to discuss and we work together to come up with a Digital Marketing action plan. It's my job to identify areas for improvement and make recommendations for you/us to implement. My communication style is very upfront, I speak your language whether you are a brand new website owner, or a grizzled Developer looking for a specialist one-time solution.
Straight Talking SEO Advice
I'm not backwards at coming forwards my natural speaking style may lack diplomacy at times, so if you're looking for a direct speaking style who zooms in to a solution, or suggesting multiple ways to solve a problem, then don't just take my word for it, contact any of my clients.
On People Per Hour I have been active since 2009, over the decades I've garnered over 500 reviews. My Google Business Profile reviews recently exceeded 90.
SEO Lady Brand Support – Personally training my team
Watch as I share my screen with you and you learn the rudiments of Google ranking.
I will be your project manager and lead my team to help you rank in Google. Fundamentally I'm a sole trader, however my popularity since lockdown has been incredible and isn't slowing down.
Mentor SEO Training Over a Decade
For the last 10 years I've mentored a local (to me) WordPress developer, and yelled at him until he understands on-page SEO to my satisfaction.
Another freelance SEO copywriter has been mentored by myself with a lot more SEO lady tuition for 4 years, so I'm very picky who I choose to work with.
The SEO Lady brand has slowly evolved to this stage and I'm now offering a quicker project lead time than when I was a sole trader.
If you'd only prefer to work with myself directly, I can book you in with an 8 week lead time.
Otherwise if you're hellbent on kick starting ASAP, there will be a 3 week lead time with me as your primary point of contact as your project manager.
Your process begins with a video call, I provide a tailored SEO roadmap detailing a 3 – 6 months plan of action and we chat for an hour.
SEO Case Studies: 
Navigate to my blog on the SEO Lady website to read all my case studies on a broad range of subjects:
Shopify UK Nationwide Google page 1 ranking in 30 days
WordPress UK Nationwide Google page 1 ranking in 30 days
Kajabi UK Nationwide Google page 1 ranking in 30 days
Magento 2 UK Nationwide Google page 1 ranking in 30 days
Domain migration with rankings in mind
Platform migration WIX to WordPress with SEO Booster, a case study in two parts
Company Rebrand and SEO
VSEO – Video SEO since 2011 using YouTube ranking with white hat linkbuilding
Negative SEO situation, manual Google penalty removal and rankings recovery
Funky Pigeon vs Moonpig SEO, chasing a two word competitive search phrase in Google
Digital Agency SEO White Label UK – International
As an SEO freelancer for multiple Digital Agencies, we work together in the way you prefer, whether you create a domain email for me to communicate directly with your client, or choose to represent your agency as the point of contact and I never speak to your clients.
On some occasions, digital agency owners use me as a recruitment tool to help them through the interview process for hiring an on-site SEO – what questions to ask the candidates.
Availability: Currently I am working on a 1-2 month lead time for new SEO clients, for video consultations my availability can be 2-5 working days. The SEO Lady hand picked team offer a shorter lead time for new projects, in 3-4 weeks. I will be your digital project manager.
SEO Consultant UK Freelancer Since 2008
About Nina Payne the SEO Lady
How you came up with your business idea and when? I had been employed as an SEO since 2008 and joined a freelancing website to take in odd jobs as a second job in the evenings and weekends. I launched my own website in 2009 which was www.1weekseo.co.uk. Later down the line in 2016 I went through a company rebrand to www.seolady.co.uk.
I found that working for one website and to get them to Google page 1 was relatively straightforwards e.g. www.funkypigeon.com the personalised greetings cards company based in Bristol. Over a period of 9 months (at 40hours/week) I successfully ranked their website to Google page 1, position 1 for "personalised cards" UK Nationwide and taking down Moonpig from the top spot- now what do I do? I'm bored at work, I need several companies.
I'd love to work from home so I SEO'd my own website for "SEO Training Somerset" and "SEO Weston-super-Mare" to attract local clients whilst expanding my portfolio of remote clients online via the Freelancing website www.peopleperhour.com
Career Background – Decades in Sales, Marketing and Print Advertising
What did you do before? My Sales/Marketing experience? I used to work in Sales and Marketing for a local newspaper, then sold 12″ DJ Vinyl records on eBay which as it turns out is the same as optimising sales on Google. I combined elements of SEO together with sales call to action and enticing item content to encourage people to buy. Following this I  worked for companies as the sole SEO / Digital Marketing Manager.
What or whom inspired you to set up your own business and why? I was frustrated with just working for one website as an employee – only because when you rank a website to Google page 1 position 1, what happens next? How do you fill 40 hours a week? In 2013 I thought "This is it" and used the freelancing website People Per Hour to build a client base, my profile is now one of the highest at Level 5 since I joined back in 2009 working 2 jobs.
The attraction of working from home in my pyjamas without having the daily train commute to Bristol and Bath was overpowering. I hated commuting and swapping jobs once I had got to Google page 1. I have to be kept busy and managing my client portfolio certainly gives me variety on a daily basis. I'm very environmentally friendly, I aim to be paper-free and can't recall the last time I printed something for my business.
Ethical SEO Sustainable eCo Friendly Digital Marketing in Somerset, UK
I'm crazy about the planet and recycling, I'm paper-free and website hosting is certified by the Green Web Foundation.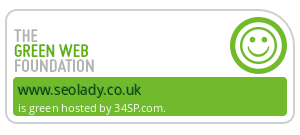 How did you get started? I asked at the local Jobcentre for advice on going self employed, registering a business and finding an accountant and that's when I got in touch with the local North Somerset Enterprise Agency (NSEA) who helped me out immediately. The NSEA team provided me with the telephone numbers I needed to setup appointments with the correct local government departments, even securing me a 6 month grant to help me face the first year of being self employed.
Where are you at with your business now and in what ways do you feel you have been successful? I celebrate 5 years working from home in October 2017, I've grown my client portfolio both locally, Nationally and Internationally with Online Consultations and also working in the background as a freelancer. I speak to clients all over the world in America, Lanzarote and even Thailand on video chats.
Whether it's freelancing weekly for a client in Dublin, or attending networking events I'm always up for a natter and have presented SEO Q&A talks for the NSEA, Barclay's Networking, The Federation of Small Businesses and for an online Woman In Business magazine via Google Hangout.
What are you most proud of? Having my articles published online by People Per Hour and the Woman in Business online magazine. Paying my mortgage on time, not having to commute every day, and collecting hundreds of 5-star reviews online. I'm in the red cardigan below at the local Weston-super-Mare #BossIT event at the Tropicana where I was a guest speaker.
FAQ from clients, life as a female SEO freelancer
What obstacles/hurdles did you have to overcome along the way? Don't be afraid of asking for money up front as I have been burned for 4 figures. In the SEO industry you can't un-SEO a website, so don't work on "Pay by Results", similarly don't build a website (or even start) before the money clears in the bank.
Also, one challenge being a sole trader is that people who want to succeed in Google want to talk for 40-60 minutes before parting with their money. Working a 40 hour week and 10 potential new clients a week wanting free SEO advice over the phone is tricky for me to make time . This is why I try to conduct initial consultations by email – I can post links and articles in an email and save 10 hours a week to work for my current clients!
What lessons have you learned along the way? Don't trust your friends without payment upfront.
In what ways has running your own business changed your life? I can eat much more healthily as I'm not buying food at lunchtime, I have sold my car so don't need to pay for upkeep, insurance or petrol working from home. The laundry gets done regularly.
What do you love about it and why would you recommend being your own boss? In the summer I can take the afternoon off it the weather is nice and treat myself to lunch on the seafront. I can nip into town to run errands / go to the dentist / doctor's rather than cramming everything into the weekends.
What "top tip" would you have for someone who is considering the option of being self-employed/running their own business? Create a business plan of the costs involved in launch including promotional materials and a website cost. When you have a website don't assume the day it goes live it's going to be the top of Google. It won't .. you need to invest in an SEO. Your competitors have been a long time online before your new website so you need to set aside a marketing budget to beat them to Google page 1 and make money online, either by attracting business enquiries, or selling items in a store.
Contact Nina Payne, your Google Girl with Digital Marketing Solutions.
Send a message via the Contact Form
Registered Company no. 7579877