SEO Business Mentor UK Freelance Consultant
Founded in 2008 I'm a proud woman in business, a sole trader freelancing in Somerset.
From my early days of being an employee for Funky Pigeon personalised cards in Bristol to becoming self-employed and working from my home office based in Weston-super-Mare.
My first involvement with SEO training sessions was back in 2009 when a web development company in Ireland hired me to fly over to Belfast to train their team of 10 website creators with the basics of Google Search. We had been working together for 6 months and it was clear that I was repeating myself with every website launched so it made sense to train the whole office in person. Please note: I no longer offer SEO training.
Hire me for one month with my essential no-contract 30 Day SEO Booster which is a comprehensive schedule for all types of websites, from Local Google ranking, to eCommerce UK Nationwide online stores. I'm super familiar with both Shopify and WordPress, with a strong exposure to muti-shop Magento 2 websites internationally, UK and Euope.
Have you previously employed an SEO? If you don't know what SEO tasks have been carried out and you suspect you've been paying for nothing, I'm sorry this is more common than you could ever realise.
eCommerce SEO
Investing in quality SEO isn't cheap by any means, I will elevate your Google ranking for your products to bring home the bacon.
Want proof? Increased revenue and rankings?
Local Services SEO
If you live in a large town like Weston-super-Mare may be tough to out-compete other small businesses, but leave the hard work to me.
Some clients have been with me for over a decade
Women in Small Business – Working Together
During my career, I've worked with hundreds of lady business owners, I feel we all have a few personality traits in common: Tenacity, dedication, independence and a positive mental attitude.
There's also the ability to say no, to improve working processes, to streamline time and maintain a very busy diary. Swapping my paper diary was one of the biggest changes in terms of the way that I work. I'm always on the lookout for time management improvements as a busy sole trader, my favourite is my online telephone appointment booking system. Prospective clients can schedule a telephone chat a couple of days in advance with the added benefit of being able to fact find in advance and to allow me time to deliver a complimentary Google Analytics audit so we have topics to discuss.
SEO Lady Testimonial – White Orchard Gifts
I am already seeing positive results from the SEO work Nina has been doing and what I've been learning and implementing.
For example, last week I was creating new greeting card listings from Camilla & Rose and I noticed all of the product titles were flat and lacking in good keywords so I altered every title and some of the descriptions…where necessary…and today we had an online sale for 6 (I think it was) of the cards, some of which were brand new listings that just went live when the delivery came at the end of last week.
That would not have happened if I had not made those changes.
Google Rankings eCommerce – More Orders, More Revenue
"We are also getting more orders again. We're not back to where we were prior to the lockdown ending but we're doing a lot better than we were 6, 8, 10 weeks ago. All of that to say…thank you! I love it when women work together; women really are unstoppable when we work together to achieve a common goal.
Side note…women working together and supporting one another and is something that is actually really important to me as a woman.
When would be the appropriate time to start talking about the challenges and triumphs of being a woman business owner and my journey to get here? I could easily do an entire series of blog posts about this; it could be something ongoing. Would it benefit the website? Would women shoppers find us, love it, and want to support us?"
Remote SEO Consultations via Zoom and Skype
My business has evolved so much over the past decade, my SEO training methods have also evolved to keep up to date with the ever-changing algorithms that Google rolls out. Some tasks that I taught 10 years ago are now classed as grey hat, or just plain ineffective. Every day I'm accessing parts of the internet to discuss events and changes in Search – from marketing forums to international threads on Reddit right down to discussing the nitty-gritty with a select few SEO's I know personally.
Small Business and Sole Traders – I use jargon so if you don't understand what a H1 is then you will need a paid consultation for 60 minutes. I can't explain 12 years' experience in 15 minutes. Take a look below for free online SEO advice, I've been writing articles for 20 years!
FREE SEO Advice, Tuition and Explainer Articles
Each week I receive around 10 enquiries via People Per Hour or my website from SME's and Sole Traders, the most common question is "When can you call me for a quick chat?"
Use my Online Booking system to book your Discovery Call today!
Free SEO resources for you to learn in your own time
Business Mentor FAQ Website Ranking Coach with a Google Analytics Audit
My Zoom remote consultation sessions are tailor-made for each individual need and are relaxed Q&A sessions lasting between 60-90 minutes for SME's and sole traders that openly confess to knowing nothing about Google/Bing search.
If you tell me that you've had some previous SEO work carried out then you will need to summarise the different on-page and off-page SEO tasks that were carried out so I won't duplicate these areas.
What SEO topics would you like to discuss? 
Selling online – eCommerce costs for WordPress, Shopify, or Magento 2
Blogging for ranking improvement – How many words of content does it take to rank in Google?
Domain migration – How to migrate without losing Google rankings
Website redesign – A consultation before you start the process to retain Google rankings
Search phrase bombing – Following a website redesign all my Google rankings have disappeared – help!
Keyword research (target phrases) – For new websites. Also as part of this is competitor research
KPI's and benchmarking in Google – Searching online today for your target phrases, what page and position does your website currently rank at?
DIY SEO – Tuition for absolute beginners to intermediate
Digital Agency SEO – White label SEO services from myself
Local SEO services – A cleaner in Coventry, a dog walker in Durham
When I carry out my Google audit for you I will prepare a cloud document listing all the points for discussion.
Paper-Free and Green Website Hosting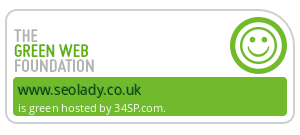 I'm always looking for ways to save the planet, bees and to help people in need via charity work, I volunteer at the Food Bank every Christmas.
My favourite 'Green' search terms include: eco-friendly, recycled, upcycled, reclaimed, renewable, sustainable, ethical, ethically sourced, renewable, carbon neutral, conscious free, humane, vegan, animal-friendly, palm oil free, additive free, morally the right decision when considering the options to buy.
For example, I try to recycle Christmas and birthday present bottle gift bags and buy recycled patterned paper for gift wrapping.
My husband hates that I hoard used bubble wrap, envelopes and an assortment of cardboard boxes around the house.